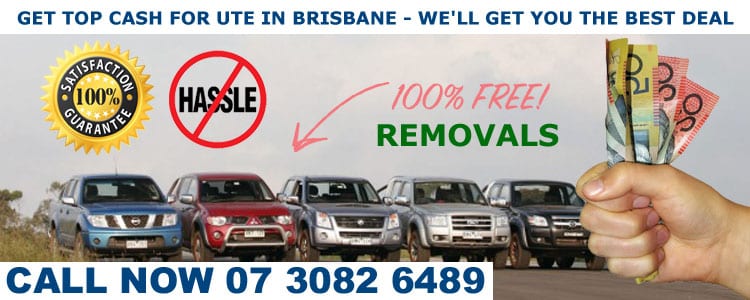 Cash For UTE in Brisbane
Get Best Deals if you have Utes then you can get top Cash For UTE in Brisbane from us. Many individuals in Brisbane have a fondness for the modern day Utes. These considered as the most versatile and performing vehicles to run on the city roads. It offers convenient transportation services with style and great performance. Yet, there won't be any means for you to keep a scrap or unwanted Ute in your backyard. Hence, we at Brisbane Cash for Utes have come forward to helping our clients get rid of the junk vehicle. You no longer have to keep the garage occupied with the scrap Ute when it can convert into instant cash.
Obtain instant cash for Ute with Brisbane Cash for Cars
Are you surprised? But you have read it right. We purchase the unwanted vehicle by paying you cash for Ute instantly. It is only a matter of few minutes and the whole process will get execute on time. Sell it to us for enjoying a hassle-free task.
Enjoy a hassle-free removal service with us
You might have possibly worked hard for searching a potential buyer for the junk Ute. But, all the effort goes in vain and it also makes you lose the precious time. What if we could help you in saving your time and effort? We are the leading scrap Ute buying company you can search in Brisbane. Our company has been operational for years and has always helped our clients, offering a perfect solution for the unwanted Ute.
You may reside in any part of the Brisbane city it won't turn us around in reaching to your property. We render our car removal services throughout the Brisbane city covering all its suburban areas. Hence, give us a call for removing the unwanted vehicle by gaining instant and highest value in cash.
How do we manage to pay you the highest value
You may have read the same old promise from other scrap car recyclers, but we can offer the assurance. We are nothing like the metal scrap dealers who negotiate for decreasing the value to be paid. Brisbane Cash for Utes is a highly reputed company in the scrap vehicle buying industry and we are an independently working company. This gives us the opportunity for offering you the highest value for the unwanted Ute. You may compare our rates in the open market but would not find a competing buyer.
So, why keep on wasting your time when you can utilize it for earning a fortune instantly. Our team of professionals would approach you for examining the current condition of the Ute. They will evaluate the value in front of you and if everything gets back into place you will be paid cash instantly. We would tow the junk Ute for free of charge.
Get a free towing service with Brisbane Cash for Utes
Are you getting concerned about the toeing service? Relax down as you have got us beside you for offering the service. We have the latest equipment required for towing then unwanted vehicles and our professionals are skilled and experienced in rendering the service.
The amount to be paid depends on the current condition of the Ute irrespective of its make and model. We accept all makes of Ute and some of our purchased brands include Nissan, Toyota, Mitsubishi, Volkswagen, Foton, etc. Hence, get in touch with us today!
How can you contact us
At Brisbane Cash for Cars we provide same day pickup facility and also offer a free quote estimate for the unwanted Utes. You can get in touch with us by calling us at 07 3082 6489 or dropping an email at [email protected]. Our professionals will be there for offering the solutions for all your queries.